Our revolutionary Harwel Model HWLR Hydraulic Passenger Lift
Harwel Model HWLR Hydraulic Passenger Lift – Specifications:
Harwel Model HWLR Passenger Lift Specification
HWLR Single Entry Lift Shaft Plans:
HWLR 2Fl Single Entry Lift Shaft Plan
SPECIAL FEATURES:
Shallow pit
Reduced Overhead
.5 mps speed
612kgs (9 passenger) load
This lift operates comfortably at 140 starts per hour and has a VVVF drive system for fast, smooth operation.
An Australian made, energy efficient, safe lift with quiet, smooth operation, able to accommodate the finishes required… what else could you ask for in a passenger lift?
Car wall panelling includes satin stainless, laminates, mirrors, painted glass, glass panels & specialty metals.
Ceiling finishes include white satin laminate with optional satin stainless/mirror stainless or laminates. The ceilings are fitted with energy efficient LED concealed strip lighting.
Ventilation fans are concealed in ceiling and mechanical ventilation holes at the bottom of the car can be hidden behind the stainless skirting.
You have the option of a structural aluminium Harwel shaft (enclosure) which is available in a range of options. We can provide the enclosure (or shaft) of structural aluminium, epoxy finished to colour of choice with grey tinted or clear glass inserts.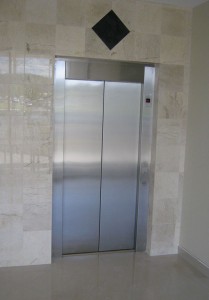 Alternatively, we could supply and install a structural aluminium frame which is internally sheeted and fitted with a roof cap. The builder could externally clad for 120 min fire rating.
Note to Architects: Our design configurations are unlimited and we welcome your direct inquiry advising your specific requirements.
Our lifts are prefabricated in our factory to minimise installation time. For example, a 2 floor, single entry lift installed in 4-5 days.
Our lifts car openings can be adjacent (right or left handed) or through car openings.
Harwel Lifts do not require 'bond blocks' to be built in by the builder or cut-outs for landing plates. Harwel door jambs accommodate our landing plates. We do require cut-outs for our doors and jambs to go into and other than that, we require power and a telephone line and clear access.